A* to B grades for A Levels exceed 80% for the 13th consecutive year
Date posted: 04/09/15
Excellent results were received with immense satisfaction and a sense of a 'job well done' when the Upper Sixth collected their A Level results on Thursday 13th August 2015.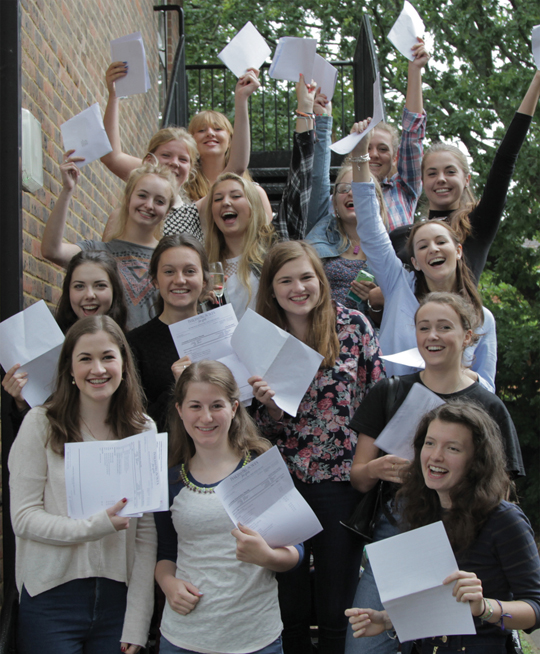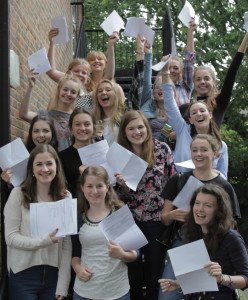 Excellent A Level Results
Over 80% of all entries were awarded A* to B grades for the thirteenth consecutive year and a stunning 97% of all grades were A* to C.  Most are excited to be heading off to their chosen universities whilst others will pursue their gap year plans with an extra bounce in their step knowing their future university aims are secure given their superb achievements this year.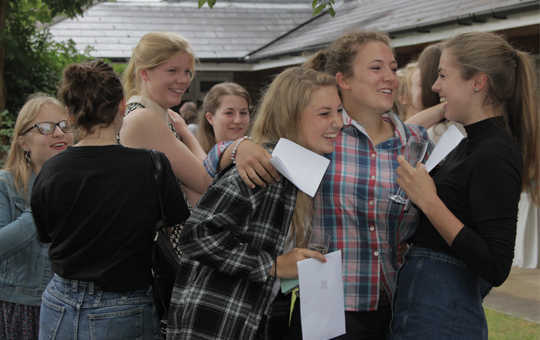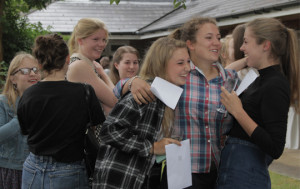 Their destinations and course choices are impressive and diverse:
Sally Emerson, who lives in Hove, achieved an exceptional 4 A*s in Mathematics, Further Mathematics, Physics and Chemistry. Her examination results coupled with her performance in her STEP papers place her amongst the very top students in the country. After an outstanding year as Head Girl, Sally is proud to be taking up her place at Bristol to read Mathematics.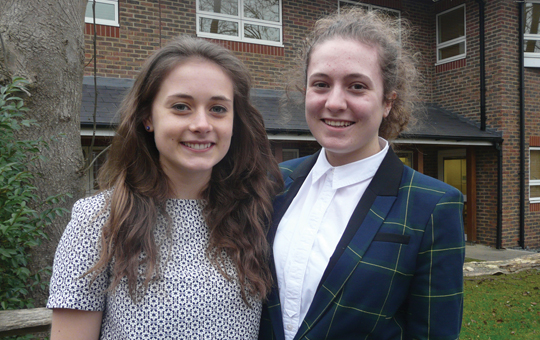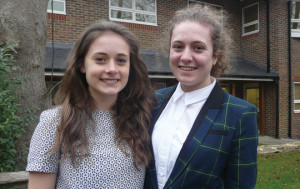 Sally Emerson and Holly Tasker
Xenia Bellwood, from Haywards Heath, is celebrating gaining a place to read History at the University of Manchester after achieving 3 A*s in English Literature, History and Spanish. A highly passionate historian, Zeni joined the school from Warden Park for Sixth Form; she was delighted to achieve an A* for her Extended Project Qualification and recently gained a place on the Holocaust Educational Trust programme. Zeni is looking forward to researching the subject in its richest form at university.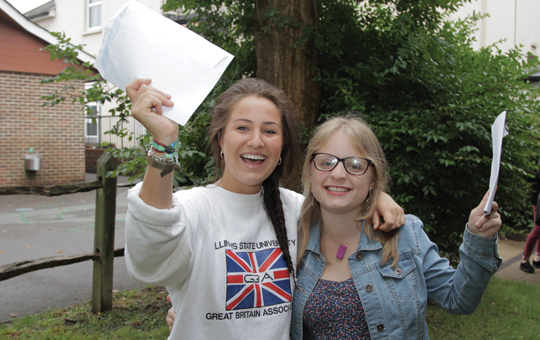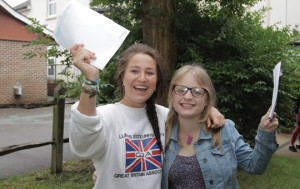 Polly Henderson and Xenia Bellwood
Holly Tasker from Haywards Heath is celebrating gaining her place to read Medicine at Gonville & Caius College, Cambridge. Holly achieved 3 A*s in Biology, Chemistry and Mathematics and an A* in her Extended Project Qualification. We wish Holly all the best for her future endeavours, both academically and on the cricket field; she has won the County Championship with the Sussex under 18s women's cricket side for the last two years!
Lauren Merry, who lives in Sharpthorne, has secured a place to read Medicine at the University of Southampton after achieving 3 A*s in Mathematics, Biology and Chemistry respectively.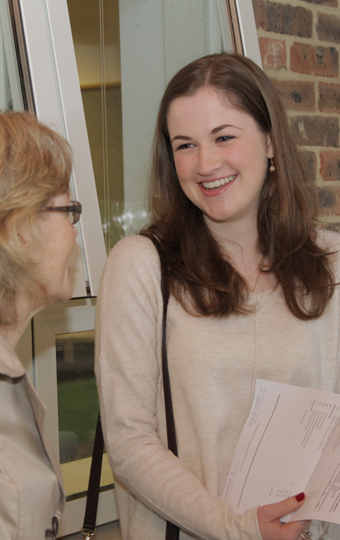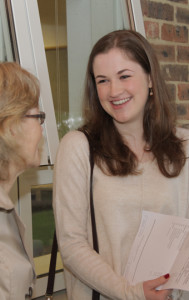 Lauren Merry
Tara Springate, from Uckfield, achieved 3 A* grades in Economics, Mathematics and Psychology and will now read Economics at the University of Bristol. This year she also completed a prestigious work experience placement at Sanlam, a wealth management in London with whom she has developed strong links.
Two A* grades in Mathematics and French and an A grade in English Literature secured Deputy Head Girl, Harriet Jenner, her place to read French at St. Hilda's College Oxford. Harriet who lives in Haywards Heath also gained an A* in an Extended Project Qualification which focused on the work of late 19th century French writer, Guy de Maupassant's Boule de Suif.
Lydia Hayman has gained a place to read History at University College London after achieving 2 A*s and an A in English Literature, Spanish and History respectively.
Florence Williams from Haywards Heath gained straight A grades in Music, Spanish and French securing a place to read French at Durham University, adding to the impressive numbers of young ladies going on to read languages at university. Meanwhile, her sister Lily, who was Head Girl last year, secured a place to read Music at the prestigious Berklee College in Boston, USA.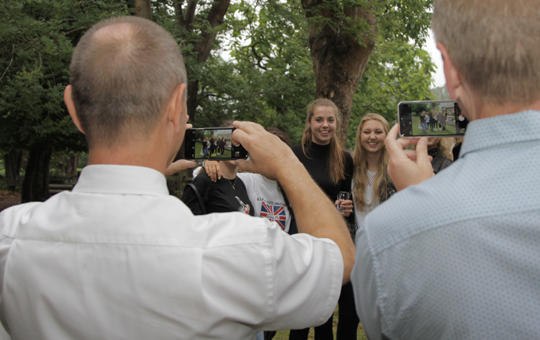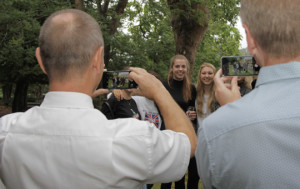 Proud Dads
We are delighted to celebrate two of our young ladies successful applications to study Architecture. Faith Wilder, from Horsham, achieved an A* in Spanish and 2 As in History and Mathematics and will take up her place at the University of Sheffield. Meanwhile, Isabel Bazett gained an unconditional place at the University of Cardiff after applying during an exciting Gap Year in her native New Zealand.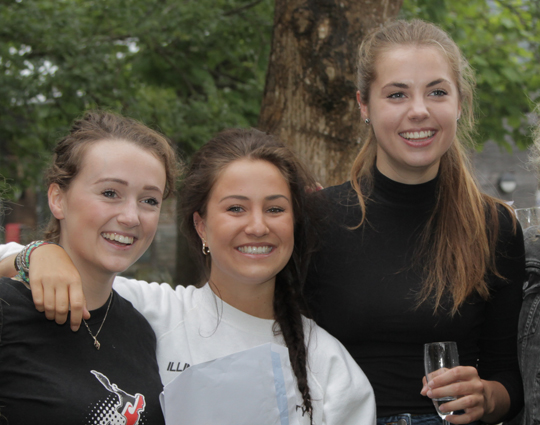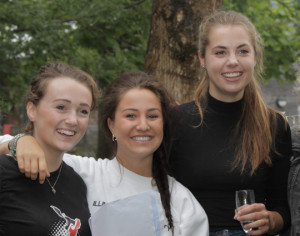 Faith Wilder, Polly Henderson and Tara Springate
A number of students who gained excellent examination results last year chose to take a Gap Year and apply for unconditional places at a number of prestigious universities: Claudia James has accepted her place to read Geography at the University of Sheffield; Jennifer Fodder successfully gained a place to read Criminology and Psychology at the University of Southampton; Amy Scott and Antonia Forrest auditioned exceptionally well and obtained placed on the University of Birmingham's Drama and Theatre Arts course. Meanwhile, after a productive Gap Year, Rachel Nibloe has opted to read Early Years Development at Norland College, Bath.
Emma Strang, Polly Henderson and Chloe Miller were among our top performing creative students, gaining unconditional places at Italia Conti Academy of Theatre Arts (Musical Theatre), Kingston University (Art Foundation) and the University of Birmingham (Music) respectively.
Mr Nick Dyson, Head of Sixth Form, said "Emma has a very bright future in theatre arts whilst Polly has already been recognised by Burberry. Chloe has been an active member of the Brighton and Sussex Youth Orchestras and has played the role of conductor for our Junior Orchestra this year. We feel very fortunate to be teaching such proactive and talented creative students at Burgess Hill Girls."
Boarders Maggie Tse, Michelle Ngai and Lillian Lai achieved some excellent A* and A grades and have secured places at Durham University (Accounting and Management), the University of Bath (Pharmacy) and the University of Surrey (Civil Engineering) respectively.
Mrs Kathryn Bell, Head, said "We provide a world class education for all our students and these results prove this. These are absolutely superb results that have been achieved by our wonderful Sixth Form girls and will enable them to progress to their university of choice. What is truly amazing is that these significant successes have been achieved alongside a well-rounded personalised education involving a huge range of extra-curricular activities. I know the girls will join me in congratulating and thanking their teachers who are truly brilliant with a real passion for teaching and learning. They have supported and nurtured the girls so that each and every student has reached her potential and helped them become who they are."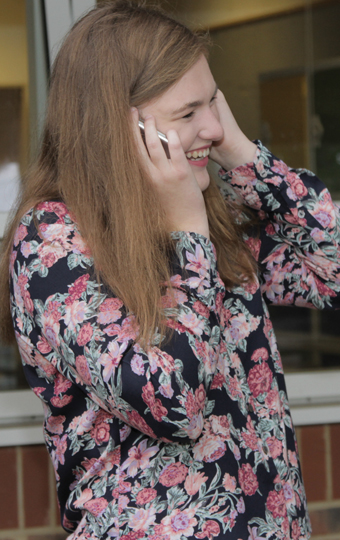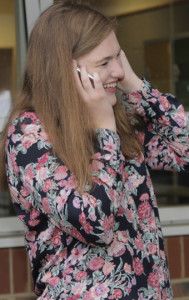 Mrs Kathryn Bell added, "Our girls have met the challenges put before them to achieve higher standards than they may have ever dreamt possible, and to do their very best. They have made the most of all the opportunities on offer; broadened their horizons, become more interesting people, discovered their own passions, gifts and talents, grown into unique and powerful individuals, and not allowed themselves to simply blend in with the crowd. My heartfelt congratulations to all the girls; we will miss their enthusiasm and energy and wish them all a bright future – they certainly deserve it."
"We are particularly delighted with the full complement of A* grades gained by our EPQ students for the third consecutive year and the highly prized A* grades in French and Spanish which are recognised nationally as amongst the most difficult to achieve. With three quarters of the year group taking at least one Science or Mathematics A Level, we are also proud to highlight the strength of the school in encouraging girls to pursue STEM subjects at school and university."