University, Challenged.
The girls meet the universities
Date posted: 02/12/15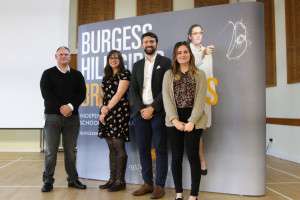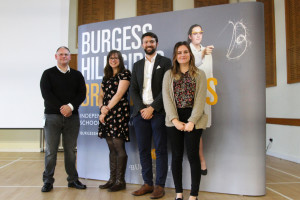 Years 10, 11 and Lower 6th students at Burgess Hill Girls were joined by students from Oakmeeds Community College and Warden Park Academy and given the opportunity to attend a seminar preparing them for the next steps of their educational careers. Speakers from 3 prestigious universities spoke on a variety of subjects, as well as answered questions from the girls after the presentation.
Burgess Hill Girls were very pleased to welcome:
Alexandra Rutterford, Schools Liason Officer for Newnham College Cambridge covered the subject of 'Applying to Cambridge',
Mike Nicholson, Director of Student Recruitment & Admissions for the University of Bath, who spoke about 'Applying to Selective Universities'.
Craig Dove, Undergraduate Recruitment Co-ordinator was the local representative tackling the subject of 'What is it like to be a student?' on behalf of the University of Sussex.
Questions from girls covered a wide range of disciplines ranging from 'What is the best single source of information regarding universities?' to questions regarding finance and fees.
Year Eleven student, Lucy S said of the event 'It was such an insight into the university process on things you wouldn't necessarily find out from universities, it really put things into perspective.'
In the evening, the parents had the opportunity to meet the speakers and representatives from the universities and ask any questions they had relating to their daughters prospective applications in the coming years.