Chopping onions was the first challenge of the many to come, and already poor Bobbi was in tears. They needed to be of adequate size; small enough to avoid the risk of overwhelming potency, but sufficiently generous to add the desired onionish flavour.
After much anguish, the onion was chopped, and the team moved stoically on to the peeling of potatoes. Now this might seem an easy feat, but many would have been stumped. Not these girls! They toiled over the spuds for many a sad moment, until they were flayed and ready for the chopping. Bobbi had recovered by now, but Caitlin was feeling rather faint. Nevertheless, they marched on like troopers, and the tubers were chopped in record time. These in turn had to be boiled until they had gained a soft texture, not too soft (as nobody in their right minds likes a runny tater) however crunchiness in a solanum tuberosum is only acceptable when dealing in the realm of chips and crisps. This was not the case, as the brave girls had ventured into the unknown kingdom of tortilla making, which required an exceptional degree of precision, such that only the most scientifically able minds could have coped.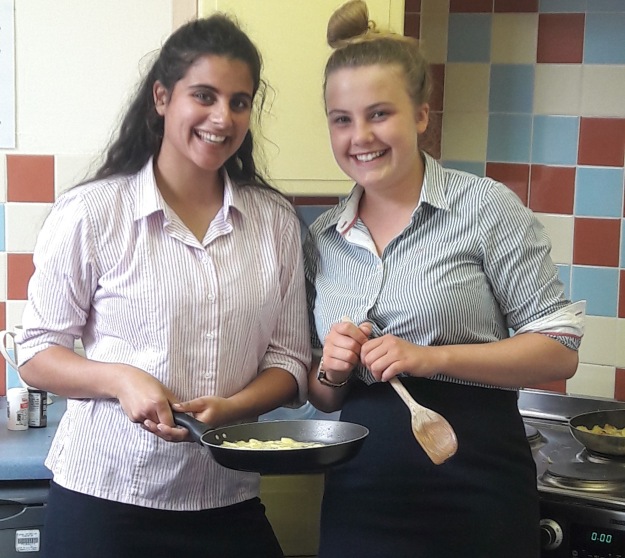 The boiling was completed, and now came the true test, the point at which many would have lost all hope. The frying of the onions and spuds must be balanced with the seasoning and beating of the eggs, which were then poured with great artistry onto a non-stick frying pan placed on the hob at a low heat.
After an anxious wait (the girls were in hysterics) the tortilla emerged, a testament to their genius in cooking, Ms Found's patience and Mr Montesinos' great leadership skills. The result was described magnanimously as 'very good' and Mr Dyson's response was characteristically enthusiastic.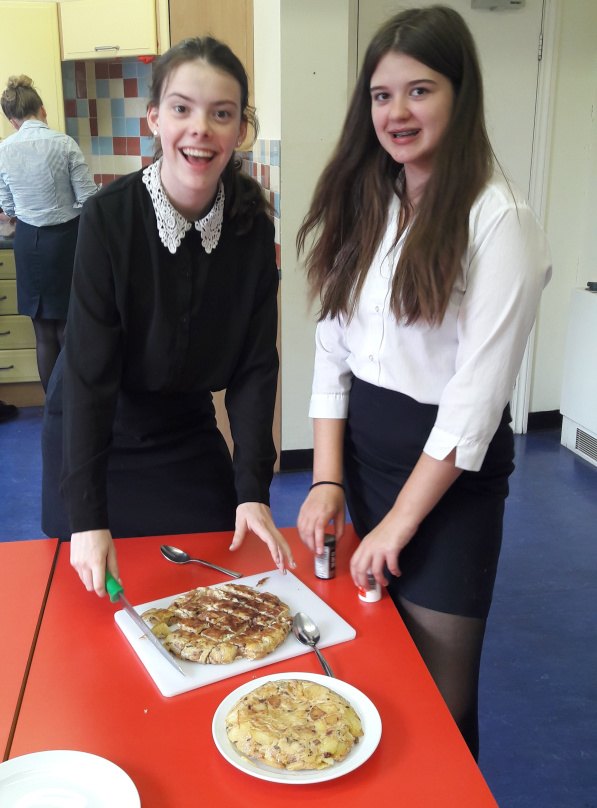 Participants: Bobbi E, Emily H, Natasha W, Caitlin H, Ruby E
Blog written by Ruby E.