With a massive 64% of all entries graded A*/A (new grades 9-7) and nearly half the cohort gaining at least seven or more A*/A (new grades 9-7), Burgess Hill Girls is celebrating another year of success.
There were more A* grades than any other grade in legacy subjects, which have letter grades. In the newly reformed English and mathematics examinations, Grade 8 (a low A*/high A grade) was the most popular grade. In August 2018 all GCSEs will be graded 9-1. The overall pass rate was 99%.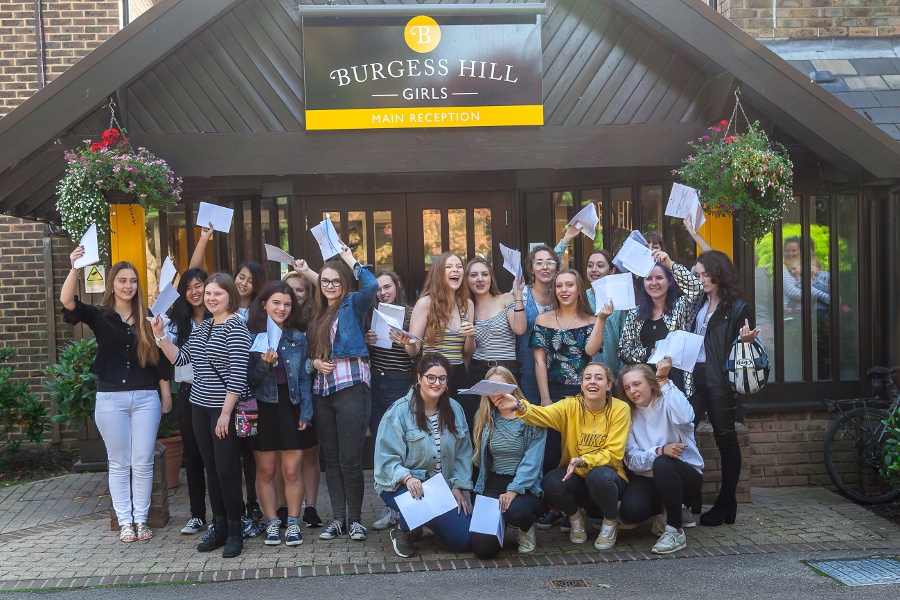 Standout student, Amy, gained 10 straight A* and grade 9s, together with a Distinction in Level 2 Further Mathematics and an A in the Level 2 Project Qualification. Jasmine landed a highly impressive 10 A*/A and grades 9/8.
Particular congratulations also go to the following 6 girls who gained 9 A*/A grades or new grades 9-7 – Isabelle, Susannah, Cara, Jessica, Niamh and Isobel.
Burgess Hill Girls continue to attain very highly in STEM subjects (science, technology, engineering and mathematics) with 70% of all entries graded A*/A or new grades 9-7. The A*-B and 9-6 figure rises to an impressive 96%. This bears out the national picture that girls achieve more highly in STEM subjects in an all-girls environment. 13 girls took the Level 2 Further Mathematics Certificate scoring 92% A*/A with three girls – Jacqueline, Amy and Iris – achieving Distinctions.
There were stellar performances across the board in other subjects too, with Art and Latin both achieving 100% A*/A grades and Religious Studies 96% A*/A grades. Burgess Hill Girls have once again shown that they can achieve superb results across a range of academic subjects whilst actively pursuing a wide co-curricular programme.