It's less than a week until the epic Burgess Hill Girls production of West Side Story. Tickets are more or less sold out for the evenings of Thursday the 8th and Saturday the 10th of February but there are still some available for the evening of Friday the 9th and the Saturday matinee – buy here.
Here's a glimpse of the amazing set and a note from the Director, Emma Cassim.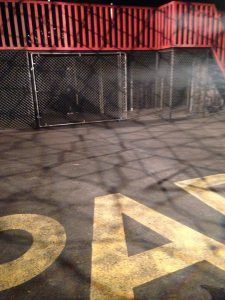 "West Side Story? Are you sure?!" was the response I got from most Drama and Music teacher friends and colleagues. "It's very difficult isn't it?" "It's a classic isn't it?!" Yep, it sure is! I am no musician, and that has been my own personal challenge with this show. But yet again, the talent and hard work of the young people I get the pleasure to work with every day has surprised and inspired me. The generosity and creativity of so many of my colleagues has been endless and extremely welcome. Being able to work with some of the best professionals I have come across is such a dream, I have to pinch myself. Expert and faultless production management and design, sound and technical perfection, costume heaven, choreography masterclass and Musical Direction way beyond what I thought would be possible with the show. A dream team!
Last year marked the 60th anniversary of Leonard Bernstein's 1957 production of West Side Story, it is a piece that touches on hot topics of both the time it was written and the current day; including gang warfare and racial tensions. The marriage of play and politics, of song and strife took hold of hearts in 1957 and continues to impact audiences across the world today.
When asked to defend musical theatre, and sadly this happens annoyingly often, I always return to one show: West Side Story. For every criticism levelled at the genre, West Side Story has the answer. There is Leonard Bernstein's rich score, Stephen Sondheim's vibrant lyrics and Jerome Robbins's exuberant choreography. For me, it is a nigh-on perfect musical, and a matchless piece of theatre.
The musical, based on Romeo and Juliet, explores the rivalry between the Sharks and the Jets, rival street gangs in New York in the 1950s. Tony, a former Jet, falls in love with Maria, the sister of Bernardo who happens to be the leader of the Sharks. No one can stop Maria and Tony from trying to break through the stereotypes and social constraints to find true love. However, it goes tragically wrong, and the action doesn't stop until the climactic and heart-breaking ending.
The talent on show both on and off stage is clear to see. I am, as ever, so incredibly proud of all of them for the professionalism and effort they have given. It's been challenging at times, and in true theatre style we have worked together to get there, and, as always, it has so been worth it.
Myself and the entire company of West Side Story 2018, hope you enjoy this beautifully told classic. Lean forward and open your heart and you will be moved as well as entertained.
Emma Cassim
Director