On Tuesday 13th March Alice, Meghana, Eva and Bethany participated in the UKMT Year 8 and 9 Team Maths challenge in Ashford.
Thanks to Bethany for this excellent report:
We began the day with the Group Round. In this round we were given 10 problem solving questions, which we had 45 minutes to complete, as a team. We had a great start, scoring 55 out of a possible 60 points, which was one of the highest scores out of all of the schools participating in the competition.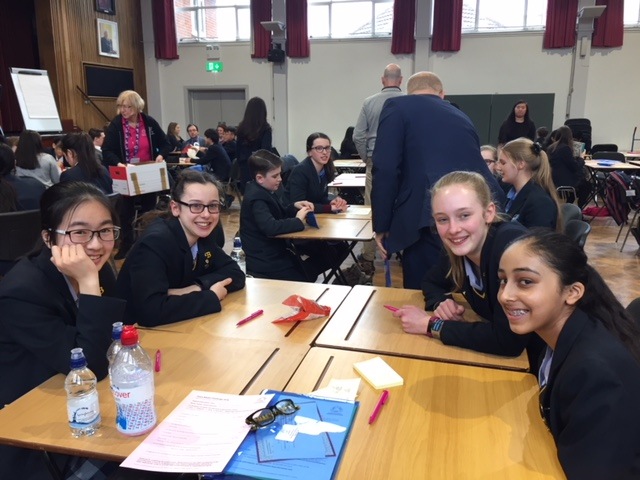 The second round was the Crossnumber Round. This is like a crossword, but to complete some of the answers, you have to know the answers to other questions. To make this even harder, we had to split into two teams, one for the down clues, and one for the across clues, and we were not allowed to communicate except through the teacher sitting in between us. This round was difficult but we worked together very well, obtaining 47 out of a possible 56 points, which, again, was one of the highest scores.

After a quick lunch break, we began the third round – the Shuttle Round. Again, we were split into two teams, and were not allowed to communicate. One team was given a question, and the answer to that question was needed to answer the next question, which the other team had, and so on. There were four questions in each section, and four sections in total. Again, our team worked well, and scored 42 out of a possible 60 points.

The final round was the relay round. For this one, we were still in two teams, but one pair moved to the other side of the room. Pair A was given a question. They had to work out the answer to it and then check it with the teacher. If it was correct, they were given a question for pair B to complete, and had to run across the room to give it to them. Then the same happened, but this time pair B worked out the question then checked it and took the next one for pair A. If we got the question wrong the first time, then we got a second attempt, but if after the second attempt it was still wrong, we could get the question for the next pair. This continued for 45 minutes. The aim was to get as many questions right as we could. We felt this was the hardest round. We scored 16 points in total.

At the end of the day, the top three teams were announced. We were very surprised to find we had come second! We would like to thank Mrs Turner very much for making it possible for us to participate in the competition. We had a wonderful time and it was an amazing experience.
Bethany, Year 9