At the end of March some of our girls had the amazing opportunity to go to Naples for a few days. Thanks to Charlotte in Year 9 for this write up so we can get a feel of what they got up to!
Wednesday 21st March
We had to meet at the airport at 5am which was definitely the first challenge of this trip. We all arrived tired but excited to be going to Italy. When we arrived in Sorrento we got straight on a coach to go to our first archeological site, The Flavian amphitheatre! It was amazing to see such an old structure that was still so intact. After we'd explored the amphitheatre and its surrounding chambers we ate lunch and took some photos. After lunch we returned to the coach which took us on a tour of Sorrento where we could see the amazing scenery, we even saw Vesuvius.
When we arrived at the hotel we were allocated our rooms and had some down time to unpack and relax. Dinner at the hotel was amazing, we got big plates of pasta which we thought was the main course but it turned out to be the starter and there was still two more courses to go! We got an early night to prepare ourselves for the exciting day planned for the next day.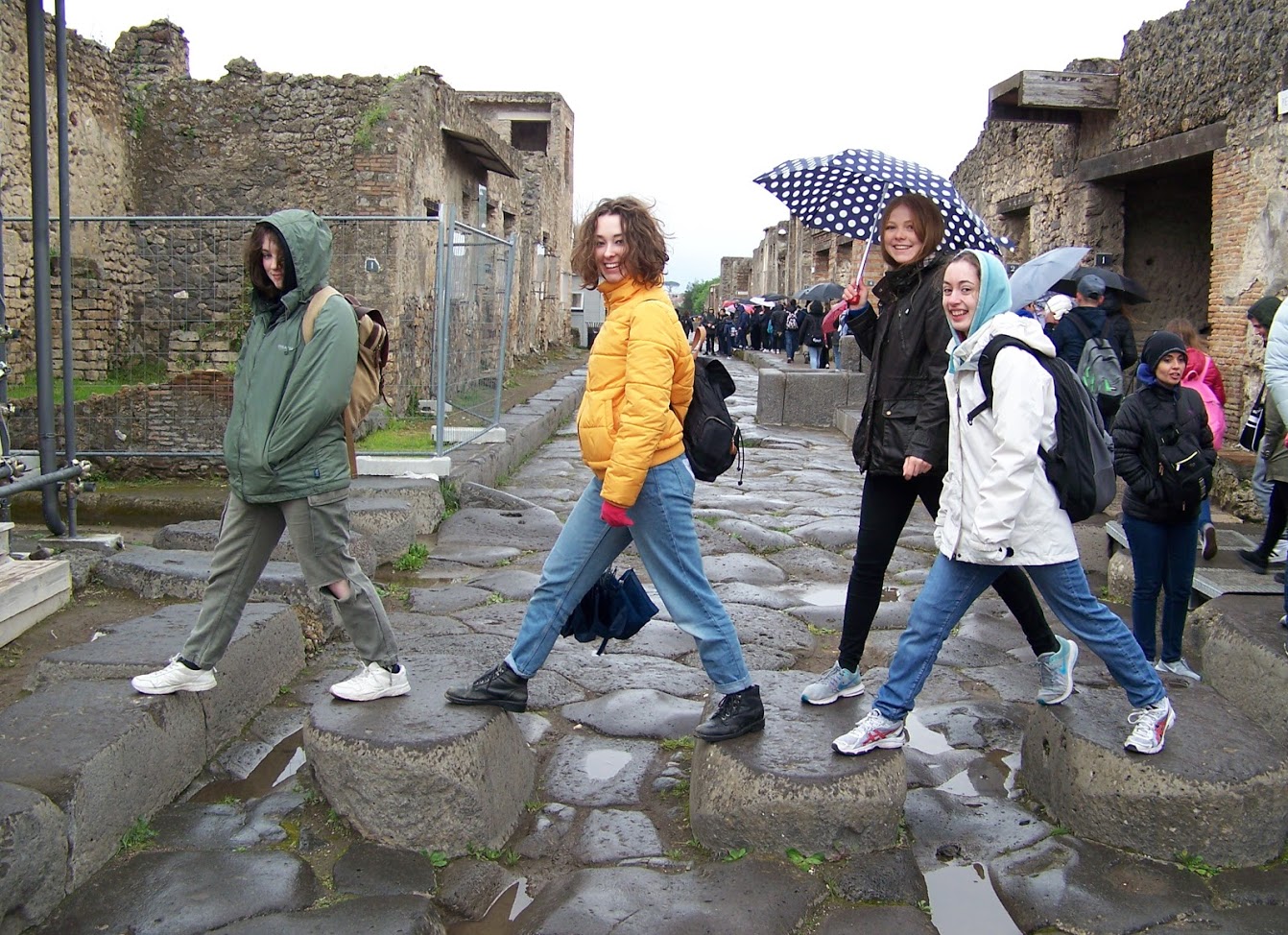 Thursday 22nd March
A true Italian breakfast at the hotel, pastries and bread with fresh orange juice, to start our second day. Today we were going to see two of the historic towns preserved by the 79 AD eruption. First we went to see Herculaneum, the second town to be encased by the ash and lava of Vesuvius. We walked around in groups of 5 or more to see the streets and houses ourselves. We were amazed by how well they were preserved, there were still house numbers carved into the walls in Roman numerals and remains of intricate murals on the walls of houses.
After Herculaneum we had lunch in a cafe before moving onto Pompeii. We walked around together this time with a guide, he showed us the best bits. One of the most astounding things preserved was the food. There were 4 loaves of bread that had been preserved by the ash and they also had remains of things like wheat, nuts and barley. Because of these foods we learnt that historians have changed the estimated date of the eruption from 24th of August to 24th of October as the foods found are Autumn not Summer foods. Another amazing thing we saw was ancient graffiti. Around the town there were all sorts of drawings on the walls. Our guide showed us a picture of gladiators on the wall of the amphitheatre, two stick men fighting. It was amazing to imagine someone had drawn that over 2000 years ago!
In the evening we had a pizza workshop which I think everyone was looking forward to. There was a long table outside with all the ingredients laid out. And I think it's safe to say we all have the highest respect for those chefs because making pizza dough is not easy!! We had a true Italian experience, while we ate our pizza we watched a traditional Italian dance, then some of us girls volunteered to have a go, much fun and entertaining to watch! Returning to the hotel we were all happy and exhausted, so everyone went straight back to their rooms.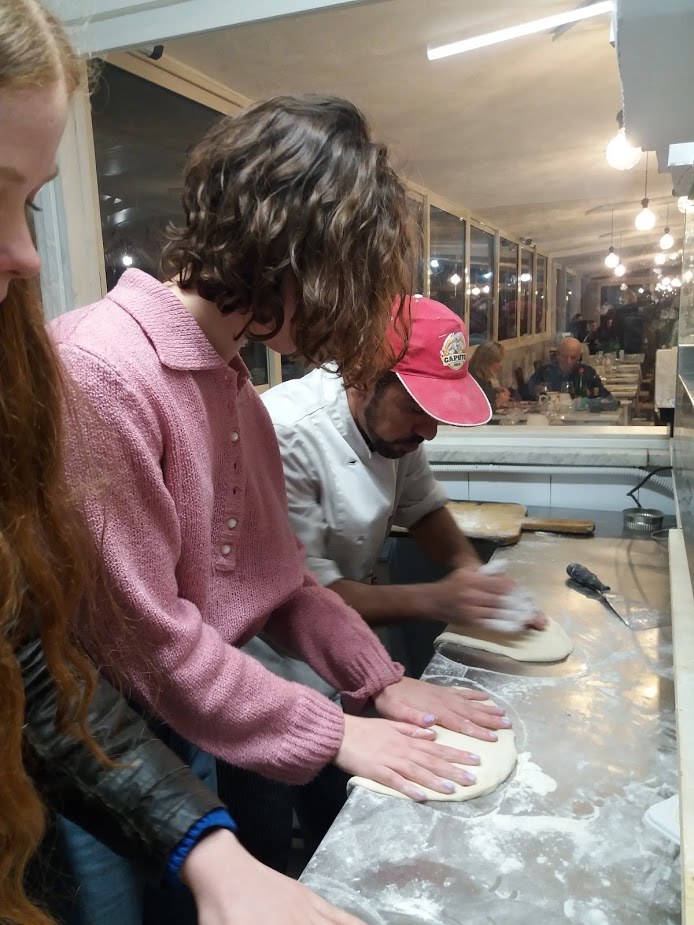 Friday 23rd March
Today was our final day of activities in Naples so we ended it with a bang! We all walked down to the docks and got a ferry across to the island of Capri. When we arrived we got even closer, squishing onto a miniature bus, which was entertaining! Then we made the gruelling long walk up to The Villa Jovis, but boy was it worth it. The view at the top was breathtaking. We stopped to take pictures (and make friends with a goat…) before looking around the villa itself. You could tell what a beautiful, enormous house it would have been in its prime.
After walking back down the hill we split up for lunch and shopping, there were so many amazing restaurants to choose from. We met back in the square and got an ice cream before getting on our favourite bus back to the harbour.
Back at the hotel we returned to our rooms and relaxed before finishing packing until dinner – which was once again, a delicious three course meal! After dinner we wrapped up and went down to the town. In my opinion, this was one of the best parts of the trip. We had a real sense of Italy as we walked round the streets of Sorrento. It was dark and the first thing we came across was a church. The doors were open and people were literally spilling out of them. The church itself was so beautiful when you looked inside, there were candles lined up outside and angelic singing echoed out the doors. As we walked round the town you could smell the pizza as we went shopping. The whole thing was a great night, even the encounter with a man selling glow sticks for €3 each! It was great just to be able to walk around the town with my friends and have some fun.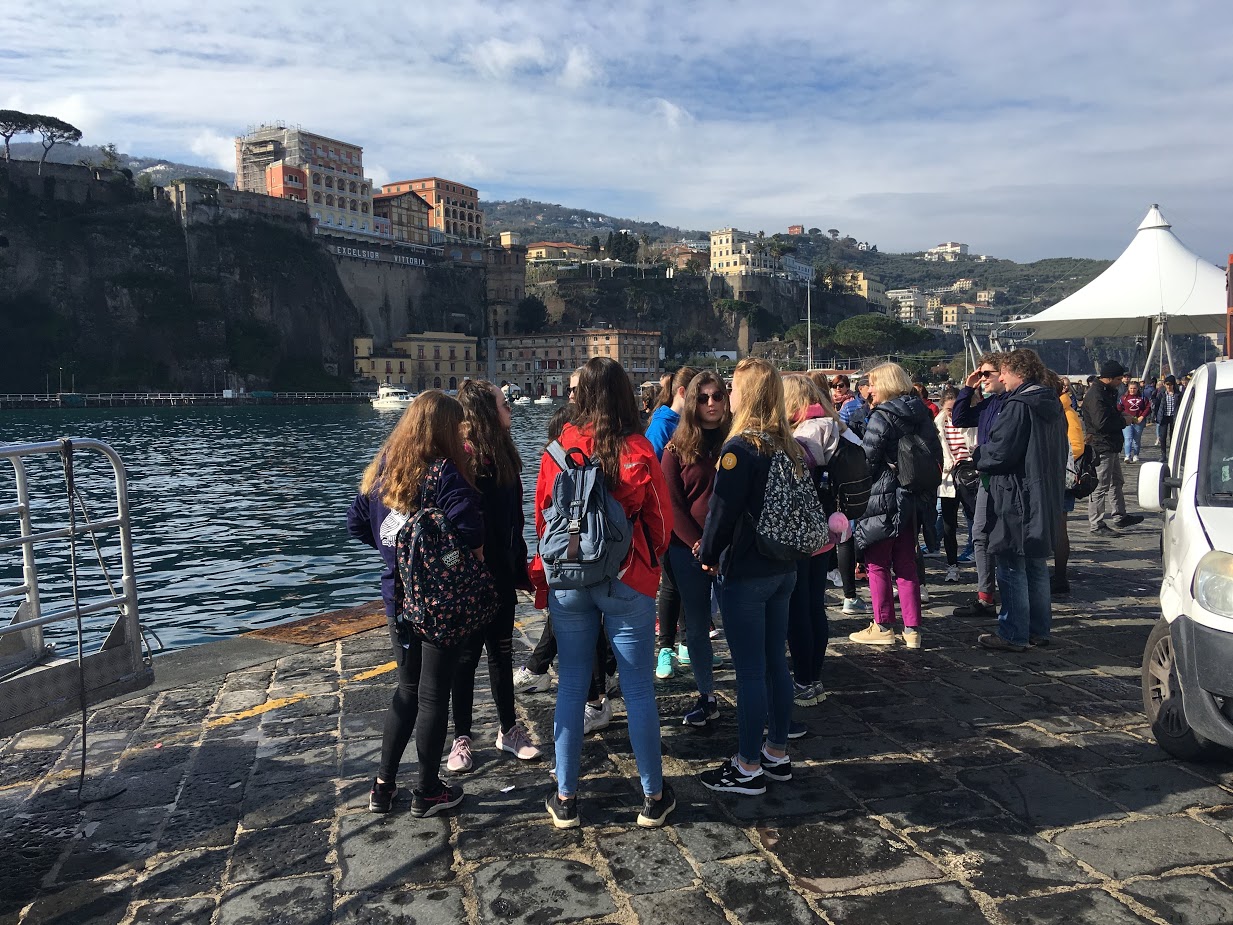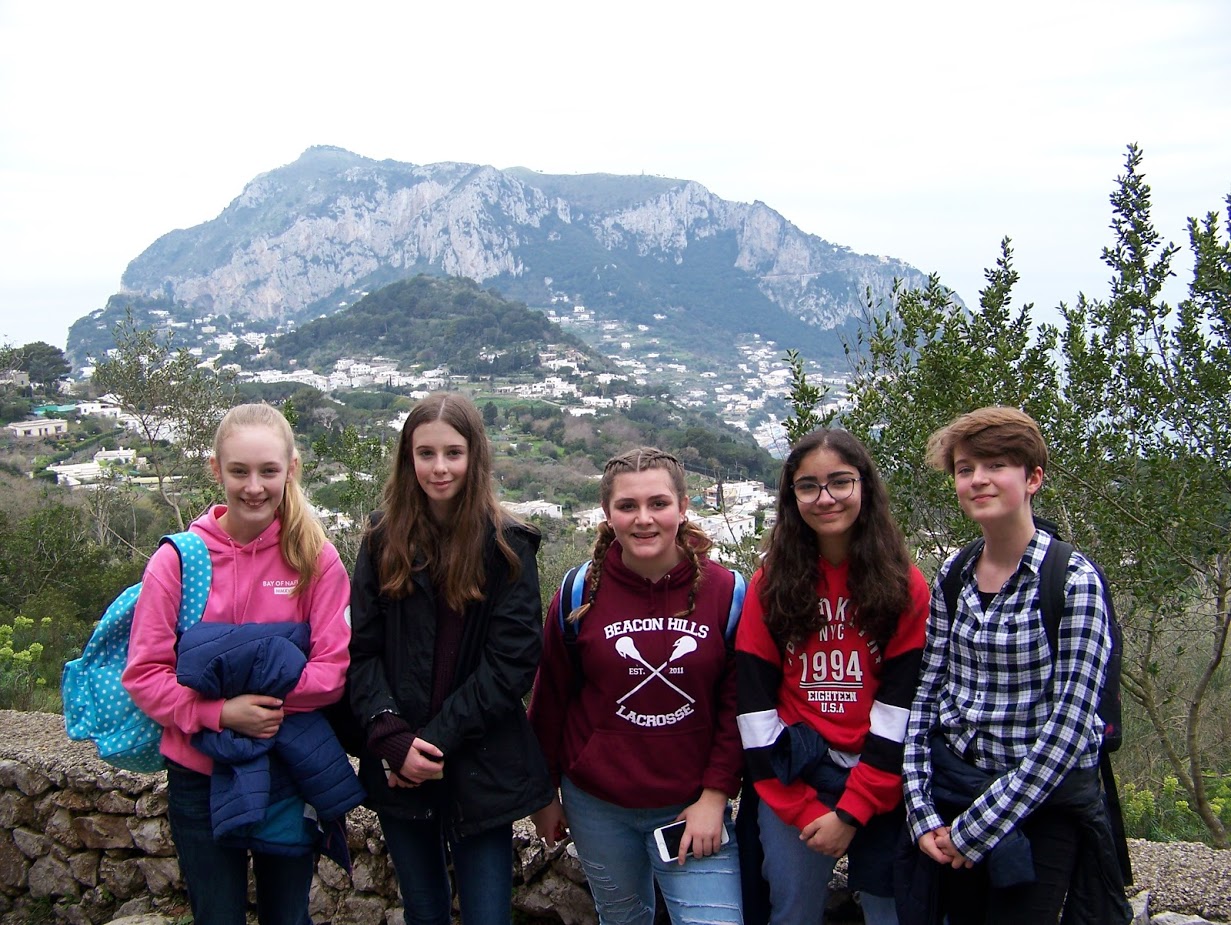 Saturday 24th March
Sadly we had to leave for the airport. We all had an amazing time on the trip and we would like to thank Mrs Kempton, Mrs Found, Madame Bell and Mr Thornton for helping to make the trip possible. We would also like to thank Miss Jones. Even though she wasn't able to come with us the whole trip wouldn't have been possible without her so thank you! And finally thank you to Mrs Laybourn and the school for enabling the trip to happen as its been an amazing experience we will never forget.