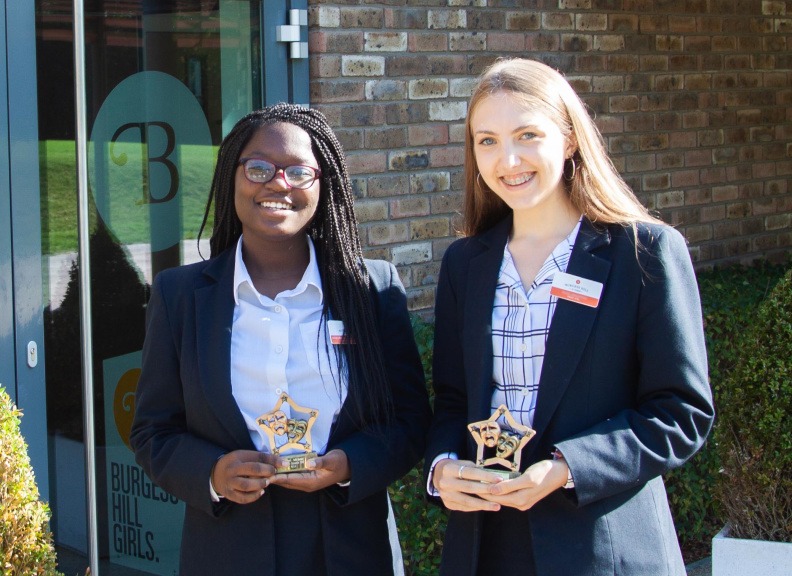 Burgess Hill Girls' voices heard as students are recognised for outstanding achievements in speech and drama.
Three students from Burgess Hill Girls have been recognised for their achievements in Speech and Drama after receiving prestigious Certificates of Excellence from the New Era Academy.
The Academy, which is also a leading examinations board, encourages learners to develop as individuals who can express themselves both vocally and physically, and explore their creativity with confidence and originality.
Adefunlola was presented with the Ronald Marsh Award for outstanding achievement and the highest mark in her Grade 5, Public Speaking examination.
Sophie was presented with the Myrtle Moss Award for the highest achievement in Bronze Medal, Grade 6 Acting, after achieving 95 marks out of a possible 100.
The Sir Roger Moore Certificate of Excellence was awarded to Head Girl Cara. This award goes to the most exceptional student from the previous year from the entire examination cohort of all levels and examinations.
Sir Roger, best known for having played Ian Fleming's fictional British secret agent James Bond in seven feature films, was a patron of the New Era Academy until his death last year.
Burgess Hill Girls Head Liz Laybourn said: 'These three awards are a fantastic achievement and are further evidence of the importance the school places on creative endeavour of every type. At a time when creative subjects are under threat, we continue to give our girls every opportunity and encouragement to develop their talents.'