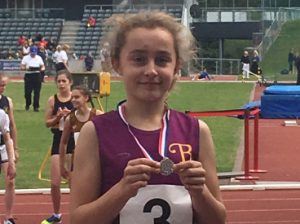 After competing in the Sussex qualifiers in June, ten athletes from Burgess Hill Girls were selected to represent Sussex in the National Prep Schools' Athletic Meeting at the Alexander International Athletics Stadium in Birmingham on the 2nd July.
Three of the girls competed in throwing events, Tiajoy in the Javelin, Tilly and Bronwen in the Discus, with Bronwen taking Silver!
Burgess Hill Girls was also well represented on the track. Frankie, Julia, Chloe and Martha competed in the 4 x 100m relay. Frankie also took part in the 70m Hurdles and Long Jump. Lucy, Susannah, Rosie respectively raced in the 200m, 800m and 1500m.
Head Liz Laybourn commented: "I couldn't be prouder of the girls and the PE staff behind them. Never before have we had so many athletes making it through to the Nationals. It was an amazing opportunity for them to compete at the Alexander Stadium."