Year 9 Tia is celebrating winning 'Best Batter South East' at the 2019 Sussex Women's Cricket Awards. She has also been THE CRICKETER 'poster girl' in our 2019 Tomorrow's Women Ad campaign. In this news we asked her to tell us all about her cricket story so far and her ambitions for the future.
I have been playing cricket since I was 10 years old. I am a member of Brighton & Hove Cricket Club and Sussex Cricket.
My passion for the sport began four years ago, when my mum had to work all day and therefore put me into a cricket camp at Sussex University. The camp was run by Craig Fowle. I was the only girl, but I didn't care. The evening before, my mum didn't want me going without knowing anything about the sport. So she taught me the basics about bowling from a Youtube tutorial! Craig was really encouraging and I participated in the camp during every school holiday that year. I then joined Brighton & Hove Cricket Club U11's. I also trialed for Sussex County and was successful. I have now been in the Sussex set up for three years, from U11's to the U15 Championship Squad 2020.
At Brighton & Hove Cricket Club, I later joined the U13's, eventually joining the women's team when I was 12 years old. I have learnt a great deal about cricket from the women's team. They are all very inspirational. I play with three ex England players and I admire them so much. They believe in me, allowing me to open the bowling and bat up the order. I have gained so much experience during my season with them. I also play cricket with Nancy Harman, who is the top wicket taker in the Sussex women's team and is currently studying Engineering at Loughborough University. She is also an inspiration, juggling her love for cricket, with her degree, as well as taking up opportunities to complete internships with the Navy.
This season I also played for the Brighton & Hove U13, U14, U16's Boys' teams, Women's First's and was invited to play for the Men's Sussex League team. Playing men's cricket was great! It has definitely built my confidence. This season has been fantastic and I have thoroughly enjoyed every moment, even the toughest times, when I was facing bowlers at 70mph! The experience was priceless and has contributed to my development.
Socially, I have made copious amounts of friends, from different clubs and walks of life. Cricket is a wonderful thing, where you can meet your inspirations face to face, be coached by internationals and scoot around the 1st Central County Ground with Jofra Archer and still feel equal to them, because you have the love of the game in common. There are no barriers. I once met Ebony Rainford-Brent, the first black woman to play for England. She was a guest speaker at the Kia Summer Smash. Someone with so much experience and an absolute legend, took the time to speak to me and ask me about my cricket. I felt so honoured. I don't think you'd get that personal touch in many other sports.
I come from a very small family, mainly my mum and I, so belonging to Brighton & Hove Cricket Club and Sussex, is like belonging to a second family. Everyone knows my name and takes an interest in what I do, inside and out of school. There's a strong sense of community. I have made so many friends and play cricket with the most amazing people. My club is great because the matches are regular and frequent, training continues throughout the year and many of the players volunteer as coaches. We're very united and help each other when it comes to setting up matches, social events and general running of the club, even my mum has become a regular scorer for various age groups!
My Sussex coaches are Georgia Adams, Tara Norris, Chiara Green, Alexia Walker, Ian Cox and Charlotte Burton. Georgia and Tara have both been heavily involved in the Kia Super League. I have watched them play many matches and it is awesome to be coached by them. Watching them develop as players, then to have them coach, is brilliant. They witness me play at my best and at my worst and never criticise me for it. Charlotte always puts the importance on development and learning from mistakes.
My season this year has been brilliant. I started this season with an ambitious target of getting 30 runs. I am overjoyed to have completed this and achieved more than I had imagined. I certainly wasn't expecting to get two half centuries!
This season I took over 55 wickets for Brighton and Hove Cricket Club and Sussex combined. My top four bowling figures were; 3/0 off 3 overs (this was during an U15 boys game against Keymer and Hassocks.), 2/0 (this was in an U14 boys game vs Newick) 3/9 off 4 overs (this occurred during a Women's T20 against Henfield) and 3/19 off 4 (this was in the boys U14 semi-finals against St. Mathias).
My batting statistics for Brighton and Hove have improved this season as I've been very conscientious about developing my technique. My best batting performances include; 55 in an U12 festival game vs Preston Nomads, 45 not out in a Women's league game vs Colchester, 44 in an U14 festival game vs Lewis Priory and 40 in a women's league game vs Canterbury. I have taken a few catches this season, including a few in the festival games and in a few league games.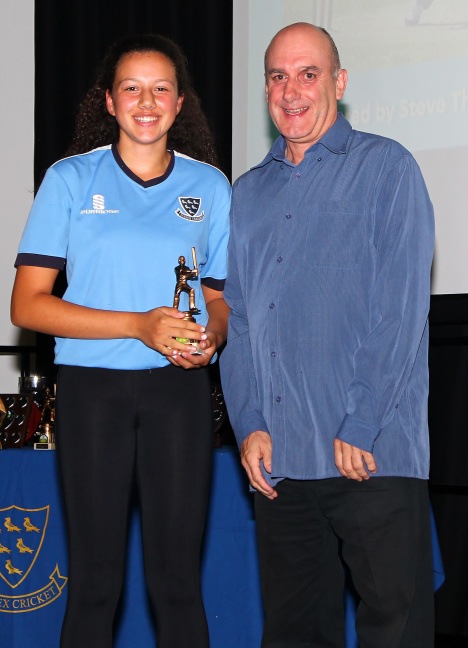 For Sussex U13's, my statistics have also improved. I hit my maiden half century, 52 not out, off 30 balls against Surrey. I have also scored 38 and 32. My top bowling figures for this season were 2/4 and 2/5.
There have been lots of memorable performances this season, including my half centuries. But one game stood out in particular. During a women's match, I opened the bowling and bowled their opening batsman out in my first over. The opposition umpire and their team weren't particularly nice to me after that. They were so unpleasant I felt like giving up and cried! I came off for a couple of overs and pulled myself together. I returned to the game, because I wanted to prove myself. I then caught their batsman out. In the second innings, I opened the batting and scored 40 runs. Situations like this are extremely rare in cricket and I've never had to experience this since. But at a time when you feel knocked down, the best thing to do is to remind yourself how much you love the game and carry on. I play much better when I have a competitive spirit and a little sporting aggression within. I certainly had a point to prove. If anyone experiences being put down or criticised I would advise them to not give up and prove yourself, because you will win in the end and feel much better for it.
Last year, at the 2018 Sussex Women's Cricket awards, I won the Most Improved Player award. This year, I won the U13 South East Batter of the Year award. I was shocked and amazed. I couldn't believe it was my name they were calling out. It was a dream come true and I'm so appreciative of the award and acknowledgement. Funnily enough, Sussex Steve presented the award to me. He volunteers to umpire our matches and travels the country following women's cricket. During a match at the beginning of the season, I was batting. I hit a straight drive, as hard as I could. It was destined to be a four, but unfortunately Steve got in the way and was badly injured. He had three days off work to recover and his ankle was badly bruised. I was so apologetic, but he didn't mind as my shot was so good. He also received the Sussex Unsung Hero Award 2019, for his voluntary efforts this season. I'm over the moon he did!
Cricket has grown over the years and it's great that schools are now introducing it into the sports curriculum. Even though cricket is only with a softball and plastic bat at Burgess Hill Girls, it's an opportunity for me to practise different shots and take more risks. Burgess Hill Girls and Burgess Hill Cricket Club (BHCC) are working together, providing sponsorship in return for coaching and use of their cricket ground. This partnership is great and wonderful for the community. Geoff from BHCC is very passionate and enthusiastic. I have known him for many years and he's always been so encouraging. It's great, as a school, we have him as one of our coaches. Miss Bebbington is a cricket enthusiast and a cricketer herself. Her knowledge and experience really benefits us as a school. I'm glad she came on board and helped move the school forward with cricket, entering tournaments and matches against other schools.
With the introduction of The Hundred Cricket format and more opportunities for women to earn a living through playing the game, there are so many positive changes happening within the sport. Sussex have increased their numbers, providing quality coaching, which will improve the quality of Club Cricket in the leagues. My plans for the future may be ambitious, but of course I'm determined to work hard and continue my development through the Sussex County set up, achieve a place on the England Performance Pathway and make it into the Sussex Women's team. To continue to represent my county and play for one of The Hundred ball franchises, would be phenomenal. To play for England, as a mixed race female, that is my dream.