Over the next few months a few of our teachers will be reading you their favourite stories with illustrations from our amazing pupils!
First up is Nursery Manager, Suzanne Roberts. She joins us from our new Nursery room 'The Den' and reads 'Doing the Animal Bop', written by Jan Ormerod and illustrated by Lindsey Gardiner. Suzanne's reading is illustrated by some lovely pictures from the children in the Nursery.
Click on the video below ​to listen to the story and see the illustrations.
​THE IMPORTANCE OF SHARING STORIES​
​Sharing stories is a vital part of education at Burgess Hill Nursery, and indeed at Burgess Hill Girls Pre-Prep and Prep. ​There are numerous benefits:
​Helps young children to develop a 'lifelong love of learning'
​It is a fun activity and encourages communication between adults and children
​Gives children information on how to make sense of the world​
Provides children with the opportunity to learn new words
Supports children in their development of concentration and attention skills
All ​the above scaffold children's​ ​general ​confidence to work through challenges and persist​ with​ difficult tasks​. Sharing stories also helps children's social and emotional skills, which we believe are ​essential foundations to school success.
​​The opportunity for reading stories at Burgess Hill Nursery is not limited to a book area where children can explore books of the week, our children are supported to explore props indoors and outdoors, use their imaginations, role play stories and re-tell their favourite stories through arts and crafts. Our new Den room provides a perfect environment for sharing stories, in small groups and one-to-one, giving opportunity for each child to share, enjoy, explore, and participate.​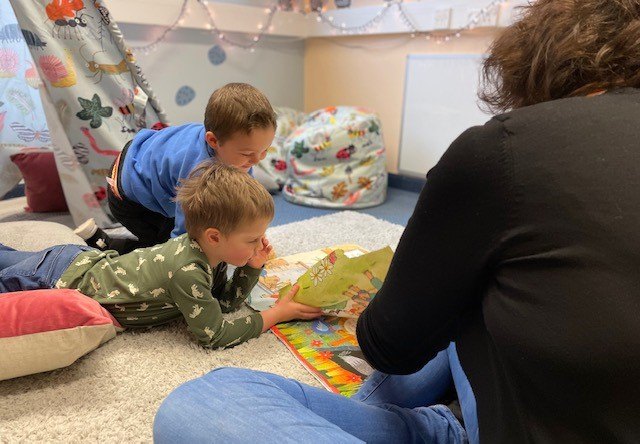 In addition to the video above, the Nursery team post story videos of them reading their favourite books via the Nursery's Tapestry account. Parents and children can access these whenever they like. These are proving immensely popular during lockdown with some children wanting their favourite story read by their favourite teacher every bedtime!