An in-person Founders' Day brought the long awaited and missed opportunity to come together again as a school community, socially distanced (of course) but a far cry from covidien video calls. After taking our seats in the fabric-draped marquee, the service began. We stood for the arrival of our Chair of Governors, Head and guest speaker, Kate Mactear before being welcomed by the Chair, Dr. Smith. Our Year 9 vocal trio had recorded a beautiful piece to which we then listened. They were followed by Mrs Laybourn's address which movingly captured our collective spirit, drew upon the resilience and rich diversity of our student body and welcomed Kate Mactear. Then began the presentation of awards by our guest speaker, the culmination of and a testament to everyone's dedication, hard-work and perseverance over the past year from Year 7 to the Upper Sixth. They marked personal progress, academic achievement and dedication to subjects. Additionally, there were special awards, originally presented by former pupils, staff and external agents to those who have made significant contributions and personal achievements and who have displayed outstanding commitment. For the awards of our Upper Sixth leavers, our Head of Sixth Form, Mr O'Brien-Blake, announced them along with a commendation of each recipient and how they have each added to the atmosphere of the sixth form and school as a whole. A wonderful recording of our Senior Choir was played as a lead into Kate Mactear's speech. She spoke of her time at Burgess Hill – how one is 'once a Burgess Hill Girl, always a Burgess Hill Girl', her career in engineering and the importance of women within the field, and how, alongside work, she trains as a semi-professional triathlete. Penultimately, a vote of thanks was delivered by our retiring Head Girl, Luella McCarthy, as a good-spirited and vivid display of our community's warmth. Each year our Upper Sixth chooses a song to conclude the service and this year's was ABBA's 'Slipping Through My Fingers' which made for a nostalgic and quite lovely mood as we left. It felt, to all of us, the perfect end to the year and a hopeful symbol of our gradual return to normality, and the times to come.
Written by Georgina W, Year 11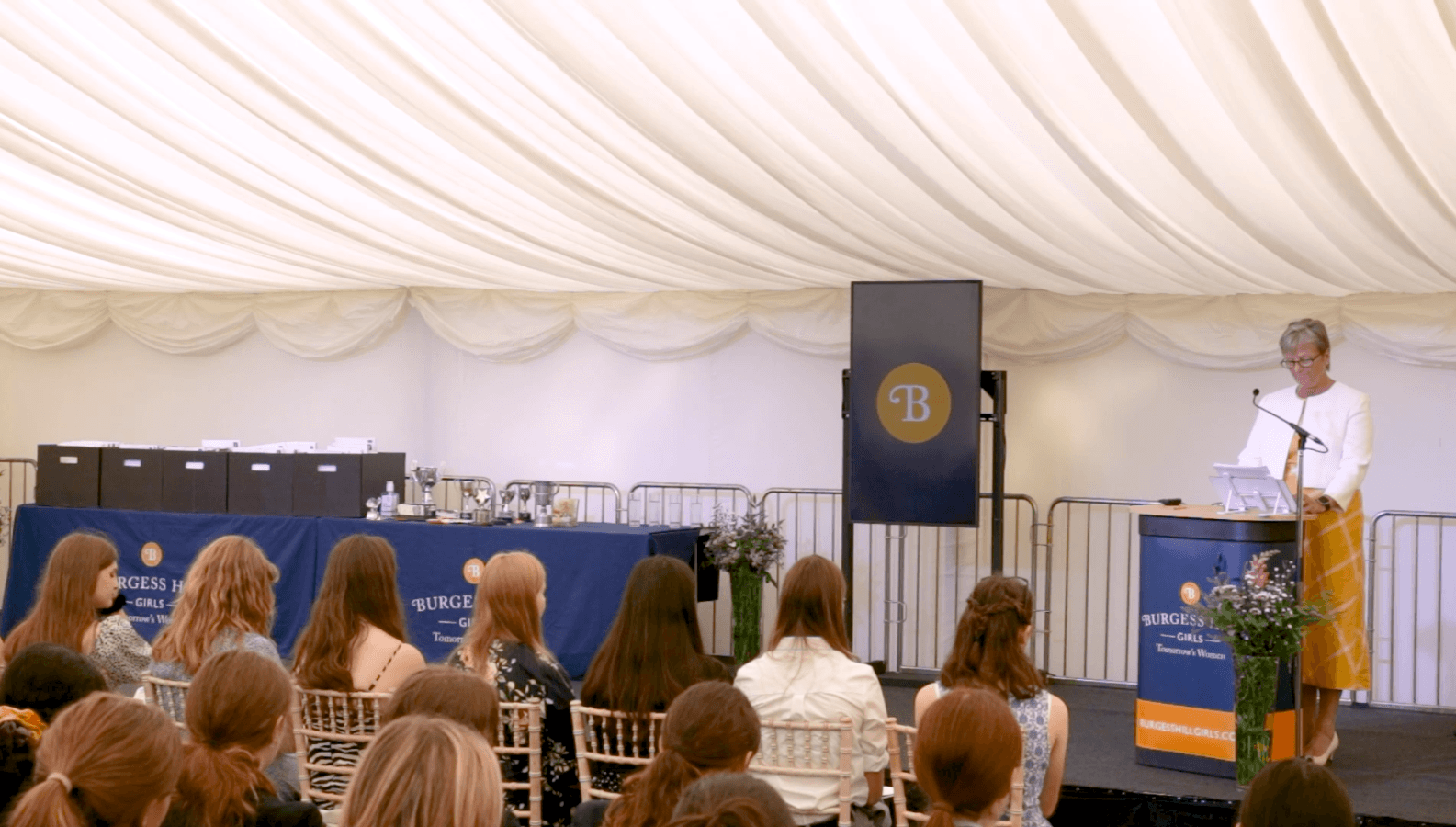 The speeches from our Head and guest speaker can be read below.
Senior School Speech – Liz Laybourn, Head:
Today we come together as a community to celebrate the achievements of students across the Senior School and Sixth Form. It is a day to applaud what makes this school so special and a day to recognise and appreciate our founders.

At the beginning of the Twentieth Century, when Burgess Hill School for Girls was founded, women in Britain tended to live very different lives to what we see today. Many women were simply expected to get married and have children whilst their husbands worked and provided for the family. Women in the UK weren't allowed to own property, serve on a jury, open a bank account, drink unaccompanied in a pub or work in a legal or civil service job. There was also a huge gap in the employment opportunities available to women.

For girls, education was very different to what you all experience. Although reading, writing and arithmetic were as important as they are now, there was an emphasis on learning sewing and needlework (very different to the textile design opportunities you so enjoy today)! Girls' education was designed to teach them enough to make them attractive marriage material and was seen as a way to make girls better wives and mothers not as a way to transform their lives.

Education was influenced by gender, class, religion and nationality. It is likely that children would have been educated with other children from similar backgrounds to their own. At Burgess Hill Girls, we believe in the importance and power of diversity and inclusion. We celebrate our students' varying backgrounds and cultures and embrace the differences within our student body.

Today we must also acknowledge our founders who in the mid 1920s saw the need to educate young women in a single sex environment. The school's aims were to educate the whole child in body, mind and spirit and we continue to emulate and take these values forward 115 years later.

It is our role, as leading educationalists, to ensure we provide our students with the skills that will enable them to stand out in the crowd.

As the school remains proud of selecting pupils with a range of abilities it continues to celebrate outstanding examination results comparing favourably with schools far more selective than we are.

The students respond positively to the stimulating and productive working environment in which staff are able to focus on the way girls learn. The relationships between staff and pupils are a wonderful mix of humour and focussed teaching and learning. Expectations are often surpassed and teachers can be accredited for enabling the students to reach and exceed their goals.

On days like today, we can celebrate accomplishments in every area of the curriculum and beyond; expectations here are high, but so is the confidence that each can achieve something special. The school is small enough that each pupil is known as an individual yet large enough to provide breadth, choice and opportunity and I believe that this is a vital ingredient in enabling our pupils to realise their potential.

At this school we believe passionately in the value of education in its broadest sense. We enjoy working with the girls to teach, to encourage and to inspire a love of learning that will stay with them as they pursue their lives and careers. We have a can-do attitude that is infectious! The future for our students will of course be to have the taught knowledge, the technical skills and the classic qualifications but more importantly the ability to make judgements, be perceptive, and adaptable. We aim for our students to leave Burgess Hill Girls with results to be proud of, but also with the confidence, resilience and enthusiasm to face the world outside.

Preparing our students to be Tomorrow's Women is what we continue to do on a daily basis.

The Good Schools Guide said of the school;

"The school is almost non-selective and yet achieves better results than many more competitive schools. The holistic approach to education, where equal value is placed on academic achievement and soft skills, produces extremely confident young women who grow up to believe they can be whatever they want to be."

This quotes sum up everything I believe to be true of Burgess Hill Girls

It is so easy to focus only on the challenges of this past year but I would like to say to you all how impressed and proud I am of how you have navigated these extremely difficult circumstances. Your ability to adapt to remote learning, the return to school minus the opportunities such as fixtures, productions, debating competitions, residential trips to name but a few opportunities that you would normally embrace every day. How you have coped/adapted/accepted has been outstanding. And most importantly, how you have remained positive and managed to keep a sense of community, irrespective of the circumstances, has been simply inspiring.

I would like to conclude with two of my most favourite quotes;

The first by Harriet Tubman abolitionist and political activist

"Every great dream Begins with a dreamer

Always remember

You have within you the strength, the patience and the passion

To reach for the stars to change the world

My second quote by Eleanor Roosevelt, activist and former First Lady of the United States

"Women are like teabags

We don't know our true strength until we are in hot water."

I thank you all for the part you play in making this such a special environment and long may we continue to be a force to be reckoned with.

Many congratulations to you all.
Prep School Speech – Liz Laybourn, Head:
Good morning Dr Smith, parents and guardians at home, teaching staff and of course most importantly – you wonderful children sitting here in front of me today. Before I even begin my speech this morning I would like to say the MOST ENORMOUS WELL DONE for completing another school year. This year has definitely been a little different than other years so let's just think about what you have had to cope with or without as the case may be:

Learning in school but under bubble restrictions

Learning at home online

No fixtures or exciting trips

No real interaction with the wider school

No swimming

Constant reminders to wash hands

Less time and choice at lunch

Separate play areas

No clubs out of your bubble groups

Less music performance than normal

No sprinkler madness – well maybe once only

Anyone listening to this may think that school must have been terribly dull but do you know what – that simply has not been the case. You – every single one of you have adapted to the changes we had to make in order for school to remain open amazingly well.

I have been so impressed with you that I asked your teachers to give me three words that best describes you as a class following the very different year we have had:

Would you like to hear what they said:
| | | | |
| --- | --- | --- | --- |
| CLASS | Word 1 | Word 2 | Word 3 |
| Reception | Energetic | Innocent | Brave |
| Year 1SA | Uplifting | Supportive | Warm hearted |
| Year 2LB | Motivated | Conscientious | Brilliant |
| Year 3SD/SC | Adaptable | Resourceful | Fabulous |
| Year 4CF | Enthusiastic | Inquisitive | Bold |
| Year 4AM | Thoughtful | Loyal | Determined |
| Year 5RB | Industrious | Excitable | Funny |
| Year 5RH | Motivating | Caring | Happy |
| Year 6GW | Positive | Hardworking | Effervescent |
| Year 6LW | Awesome | Enthusiastic | Diligent |
| Year 6AS/RM | Amazing | Resilient | Laughter |
What's very clear is that you have learnt so well to adjust to change and to make the most of every opportunity and situation that you have been faced with. What a brilliant response from your teachers and what a creative set of words to describe you all.

Mrs Cavanagh said her three words would be:

Extraordinary

Engaging

Supportive

I wonder if you would have come up with the same words?

So this leads me on to the inspiration for my speech today. I have taken my inspiration from two different sources:

Asking myself what makes the Burgess Hill Girls Prep Community so special and

A book called – "All Are Welcome" by Alexandra Penfold

When you look at all those fantastic adjectives used to describe you all, what it shouts out to me about this community is how kind you all are, how you consider and care for others, how empathetic you are and how inclusive. Such fabulous characteristics to ensure everyone feels welcome whoever they are.

The book I have chosen is as mentioned earlier – happens to be called "All are welcome" It is a short story with a very relevant message:

Here goes;

Pencils are sharpened in their case

Bells are ringing, let's make haste

Schools beginning, dreams to chase

All are welcome here

No matter how you start your day

What you wear when you play

Or if you come from far away

All are welcome here

In our classroom safe and sound

Fears are lost and hope is found

Raise your hand, we'll go around

All are welcome here

Gather now. Lets all take part

Well play music, well make art

We'll share stories from the heart

All are welcome here

Open doors, rush outside

We will swing, we will slide

We'll have fun side by side

All are welcome here

We're part of a community

Our strength is our diversity

A shelter from adversity

All are welcome here

We will learn from each other

Special talents we'll uncover

There's a big world to discover

All are welcome here

So much to learn. So much to do

And when the busy day is through

Can't wait to come back, start anew

All are welcome here

Head for home to get some rest

And greet tomorrow, ready and fresh

Our time together is the best

All are welcome here

You have a place here

You have a space here

You are welcome here.

In every school everyone will be different – Whilst this book focuses more on diversity in relation to race, ethnicity, culture and disability it is still very relevant to the wonderful characteristics that make the Prep School so very special. The ability to be your own person, an individual, but come together to create a community where everyone is valued and accepted – where everyone is welcome – for who they are is one of the many brilliant reasons why this school is outstanding.

I will give this book to Mrs Cavanagh for the prep school and share the title with your parents in the hope that they will take the time to discuss the incredible message it portrays.
Kate Mactear, Bold Girl:
Thank you for having me here today, it's so lovely to be back at Burgess Hill. I always enjoyed Founders Day as a pupil but I never thought I would be invited back because one of the things I consistently got told off for at school was talking too much.

I joined Burgess Hill in Year 5 and fell in love with it instantly. What struck me straight away was how friendly everyone was and how welcomed I felt. My first PE lesson in Year 5 was with Mrs Tapping and Mrs Laybourn and I couldn't believe my luck when I found out it involved throwing a javelin! I didn't even know what a javelin was. From then on I completely threw myself into sport lessons, learning to play more sports than I even knew existed, hockey, netball, rounders, lacrosse, basketball. I was absolutely desperate to be picked for a team. One of my best friends was very sporty. She was in the A team for everything, captain of the netball team and a natural at all sports. She just looked effortless moving around the hockey pitch or netball court, and my one aim in life at that point was to join her in a match. I'd hear rumours about match tea and was desperate to get into one of the minibuses going to a match after school rather than my normal one home. The one team I really wanted to be a part of was the cross country team. Normally the top 3 girls in each year were picked for the cross country team and I consistently came 4th, behind the 3 best runners in the year, Kelly Smith, Charlotte Frost and Hannah Jag-Nathan. My lucky day came in year 11, when I had an absolutely stellar race and came in 2nd and was picked for the next cross-country team. I was so nervous, I didn't know what to expect. But this is where Burgess Hill girls come into their own. Kelly and Hannah the other girls racing in my year noticed how nervous I was and took me under their wing. They walked the course with me, showed me the bridge of doom where you apparently had to watch out for vicious elbows and being pushed into the stream. They showed me the best lines to take, the hill that I had to save some energy for and the point at the end of the race where you should be sprinting. I ended up having the best time, I think I came pretty mid-field, luckily no-one ended up in the stream at this race, and even better the match tea was hot chocolate and mars bars. All of these opportunities at school, gave me the confidence to try something new when I went to university. I decided to take up triathlon as a complete newbie. I went to all the training sessions but I was slow at improving. I entered lots of races but would never win. I spoke to my coach who told me if I wanted to improve, I didn't just need to turn up to training. I needed to put a lot more effort in than that. I had to eat right, sleep right, stretch, recover then go again. It would be hard work but I had the backing of my coach that I could do it. I put the hours in and adjusted my lifestyle. It certainly wasn't an easy or quick process but 8 years after I first took it up, I achieved my professional licence, meaning I could race against the top women in the world. Competing at the top level in triathlon has brought me so much. I've travelled the world with it, I've pushed my body to the absolute limit and I've made some lifelong friends through it. But the three main things I've learnt is that firstly a little bit of self-confidence can go a long way. Secondly, nothing can replace hard work. You don't have to be the best, you just need a bit of determination. And finally failing is the best way to learn, once your wheel has fallen off once in a race you make sure it never happens again. Sport is now such a massive part of my life, it's stress relief and although I love the physical side of it, I now 100% do it for my mental health. It doesn't have to be hockey or netball, it can be walking, climbing, sailing, open water swimming or skiing. You don't have to be the best or the quickest, find a sport you love and you'll be set for life.

I actually loved most subjects at school, not just sport! And this meant choosing subjects for A level was pretty difficult. I spent a long time talking to teachers about what the best subjects to take were, and the advice I got most often was choose subjects you enjoy. I also really had no idea what I wanted to do after school, so I decided to keep my options open and take my favourite subjects for A level which weren't necessarily the ones I was best at, which ending up being Maths, Physics, French and History. When it came to deciding what I wanted to do after school, I was pretty sure I wanted to do something with science. I think all too often, if you like science at school you're steered towards medicine, particularly girls. It's a good career with a good mix of science knowledge and compassion, which according to society we've got lots of. But medicine is not the be all and end all of science related careers, as I found out with the help of Mrs Marsh. We had done a module on medical physics in A2 which I had loved and this had given us both an idea about what I might want to do later in life. This was where she suggested I have a look at engineering courses at university. I had never really understood what engineering was until this point. The word engineer seemed to be a very broad term and covered everyone from university professors to the person who fixes your car to the person who comes to install your internet. But I think the best way to describe an engineer is 'someone who designs and makes solutions to the problems we face in the world'. Engineers would have designed your mobile phone, they design the cars we drive, the houses we live in. They ensure we have electricity and clean water at our fingertips. They send astronauts to space and then get them home again safely. They develop the newest technology used in sport and design medical solutions to help people live longer. In short they make the world a safer, cleaner, easier and more enjoyable place to live for much longer. And I think that's pretty cool. One problem with engineering though, is that very few women choose it as a career. I think we're very lucky at Burgess Hill that no subjects are seen as 'boy' subjects and we won't be judged for whatever we choose, but out in the wider world, physics and maths are definitely still classed as subjects that girls just don't take. But we need more women in engineering. If engineers are designing solutions to the world's problems, we need more women helping to make those decisions, otherwise our world will continue to be designed to fit men. I studied mechanical engineering and then went on to do a masters in biomedical engineering. Medical engineering includes everything from designing prosthetics to MRI scanners to sensors used to measure heart rate, blood pressure and blood sugar levels. I work with a small team to design implants for cancer patients, who have to have part of their bones removed due to tumours. Often the patients are children who will have the implants for life and will prevent them from needing a full amputation. So don't rule out maths and physics. They can lead you to so many amazing careers and you could be designing the next life-saving technology.

Exactly 10 years ago I was sitting where you are upper sixth, about to embark into the big, wide word. You may be feeling sad, nervous, excited or a combination of all 3 which is absolutely fine. But you can leave today knowing you've had the best possible start in life. I call on skills I learnt whilst at Burgess Hill every single day without even realising it; confidence, determination, compassion, dedication. I was never the sportiest or the cleverest but that didn't stop me from achieving everything I wanted to achieve. The friends I made whilst at Burgess Hill are still my very best friends and are the friends I go to when I need advice, cheering up or just when I want a chat. I think it's because the friends you grow up with are always special. You go through so much together and nothing can replace that. So know that the friends you have made here will be friends for life. know that once a Burgess Hill girl, always a Burgess Hill girl.