As pupils at Burgess Hill Girls receive their GCSE grades today, Head Liz Laybourn is keen to set their academic achievements in the wider context of their personal progress.
"This year's results maintain our consistently excellent record at GCSE. Each one of our students has shown immense grit, resilience, and determination throughout what has been a very challenging time for all young people. However, education at Burgess Hill Girls is about far more than results. We are equally proud of how our students have maintained their commitment to their sport, creativity, and service, asking searching questions in their Higher Project Qualifications, taking up opportunities, collaborating, showing initiative, and challenging themselves in new ways and in new directions to build their own unique personal profile. Today we celebrate the richness and diversity of all these achievements."
What follows is a sample of the wonderful variety of individual successes we are celebrating.
Meghana is celebrating a stunning set of top grades. Meghana channelled her interest in social and political issues in her A* HPQ on why child poverty has not yet been eradicated in the UK. Studying for A levels in Biology, Chemistry and Maths, Meghana wants to go into health and medicine.
"The past year has not only challenged me but inspired me to continue studying these STEM subjects. My passion for them will continue to motivate me to work hard, pushing boundaries however unprecedented the circumstances. I am so grateful to my teachers and family for their incredible, selfless support. I am so proud to be able to continue studying for my A levels at Burgess Hill Girls next year."
Alice's clean sweep of top grades is a wonderful achievement: "Although online learning was challenging, the remote lessons and tasks set by my teachers helped me become more independent and focused." Alice's HPQ explored the connection between dance and its effect on mental health. Dance is something very close to her heart as she will be performing with the English Youth Ballet in November. "Being able to continue with my dance and speech and drama over the last 18 months, albeit online, has helped keep me motivated and enabled me to keep in contact with my friends."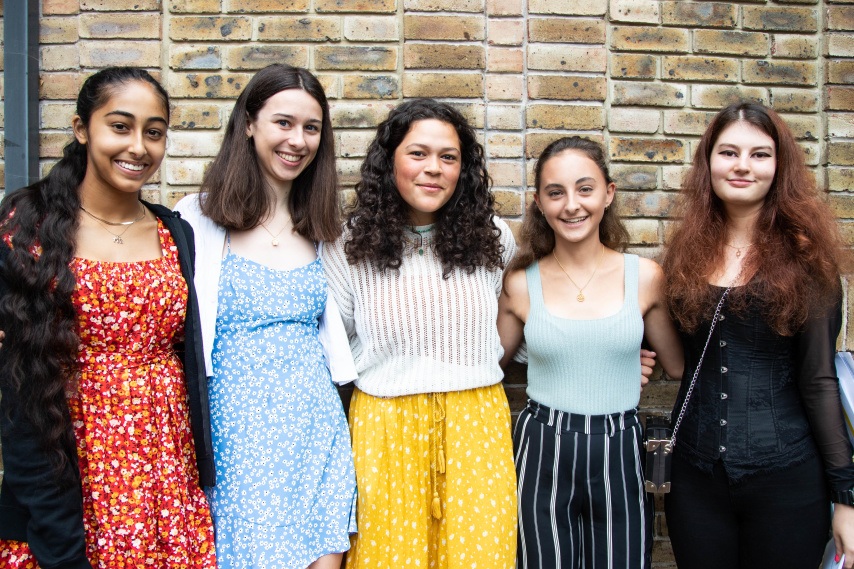 Sussex county cricketer, Regina, is delighted with impressive GCSE grades: "I'm extremely grateful to get my results today and I thank God for giving me such wonderful results. I'm so proud of everyone in my year around the country for all their hard work this year." Having missed her cricket training and competition under lockdown Regina was delighted to return to it in April.
"Lockdown was frustrating as it meant that I wasn't able to train with my teammates or use crucial facilities like the nets at the club. Cricket is my escape when it comes to anxiety and stress as it is something that I love and that I am fortunately good at. Taking that away from life was hard and it meant that when I was able to return, I had to work faster and harder in preparation for the long summer ahead. Lastly, it impacted development as there were regional trials and mass tournaments that were either cancelled or inaccessible due to the lockdown and the pandemic. Though as the country pushes, hopefully, towards the end of this pandemic, all my dreams and hopes will become reality one day!"
Regina will be studying A level Maths, Biology and Psychology.
Poppy takes home a set of top grades at GCSE and also plays hockey for East Grinstead. Poppy will study for A levels in Biology, Chemistry, Psychology and French. Her HPQ was 'Nature vs Nurture; what has the greatest influence on GCSE success?' Today's results were further confirmation of the conclusions she drew in her project:
"Both nature and nurture play important roles in determining academic success and they are interdependent. The last two years illustrates this: the pandemic has massively changed our learning environment but because the change was well-managed we have achieved at the level of our heritable abilities. Burgess Hill Girls was especially good in dealing with the lockdown. They asked how we (the students) felt about the online learning and made changes according to our feedback. It was tough dealing with the uncertainty about our exams and then pressure of exams and assessments so I'm delighted with my results today."
Georgina is celebrating her top GCSE grades and an A* in her HPQ on whether it is possible to be LGBT+ and have religion: "I am really happy with my results. My subjects have stretched me both intellectually and personally: a fear of an audience led me to Drama, fear of expression to Art, fear of questioning powerful ideas and ideals to RS. Having more questions than answers was once daunting and uncomfortable but quickly became a source of intrigue and excitement." A talented debater who enjoys wrestling with difficult questions, Georgina won a place on Immerse Education's course in Cambridge this summer with her essay on whether legal decisions should be automated using algorithms. Georgina relished the opportunity: "It was a brilliantly intensive and intellectually vivid programme – an unforgettable experience." Georgina is going on to take A levels in English Literature, Religious Studies and Politics. "I hope to go on to study law at university with the aim of contributing to human rights, diversity and inclusion, and social legislation."
To see the photographs from the event, head over to our Facebook page.
N.B. Given the unusual circumstances surrounding this year's Teacher Assessed Grades and last year's Centre Assessed Grades, Burgess Hill Girls has followed the example set by the Independent Schools Council and most other independent schools and not published summaries of student grades.