A group of Sixth Form students recently visited Dale Fort on a field trip, as part of their A Level Biology course. Read their account of the trip below, and watch the Lower Sixth's video to find out more about what they got up to on the trip!
We had to leave school really early at 5.30 am for our Biology field trip last month. Three Lower Sixth and four Upper Sixth biologists, with Mrs Vatcher and Miss Quinn, travelled by minibus to Dale in Pembrokeshire for the three-day field trip, as part of our A Level course. It was a long journey, especially as the M4 was closed at one point, and we were diverted onto A roads. However, we did manage to sleep for much of the drive there and back, so it didn't seem quite as far as it otherwise might have done.
Dale Fort is set in a spectacular location high on the cliffs within the Pembrokeshire Coast National Park, giving superb views over the sea… and also a view of the Milford Haven oil refinery! It was good seeing the seashore ecosystem first hand – we get questions about things like periwinkles in our exams, and it really helps if you actually see them so you know what it's talking about.
We had a unique opportunity to study a rocky shore habitat, with both sheltered and exposed beaches. It did mean we had to walk up and down some quite steep slopes, and cope with some rather wet and windy weather at times. We borrowed wet weather gear from the centre, and it was definitely needed as we climbed over the rocks.
We had an expert tutor from the centre to help us identify all the organisms and to show us how to use the equipment. We especially enjoyed just looking around the shore for all the different organisms like crabs, starfish and anemones. The Burgess Hill Girls staff also helped and it was an important learning experience for us, helping us to understand the ecology theory and then following this up with practical investigations.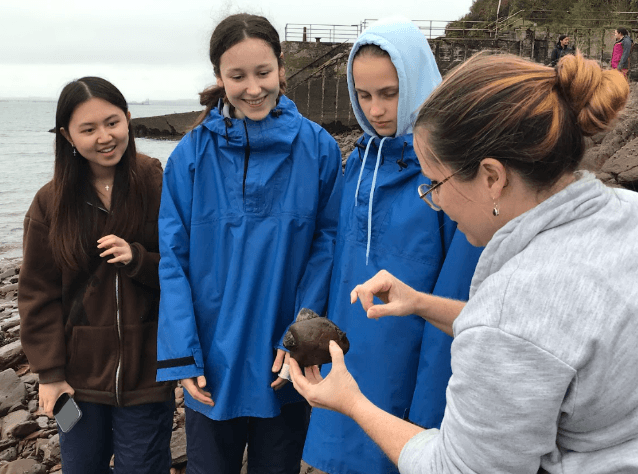 Dale Fort food is a typical field centre, so we had plenty of food, perhaps not quite 5-star, but it was tasty. Breakfast included self-service for cereals and toast, with served cooked eggs, bacon, beans, and vegetarian alternatives. We made our own lunches before breakfast, with sandwiches, cakes and fruit. They even had vegan cakes!
The trip was really worthwhile, and we would recommend it to anyone thinking of studying A level Biology. We were fortunate to be the only school there for the first 2 days, so we had the best opportunity to learn from the staff there, who were all really helpful and nice. We have made a short video to help you experience what it was like.