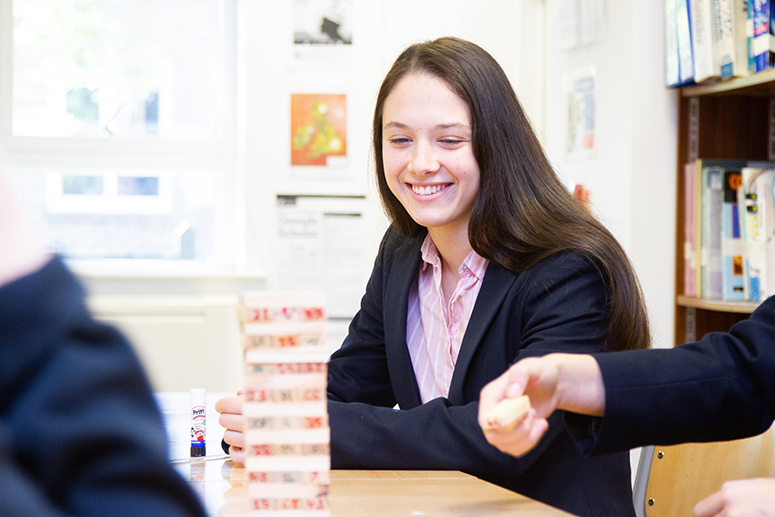 As the study of mind and behaviour, Psychology encompasses everything that is human. Whether it is how faulty neurotransmitter activity might cause schizophrenia or how the individual develops their gender identity, psychologists have attempted to analyse and explain behaviour using a variety of research methods. It is the only subject to study and assess the credibility of a range of research methods and students learn to collect and analyse all types of quantitative and qualitative data. A full understanding of the British Psychological Society ethical guidelines is also covered.
Students develop their thinking skills and learn to 'analyse like a scientist and argue like a lawyer'. They explore tried and tested theories of behaviour such as the processes of classical and operant conditioning and the ideas of Sigmund Freud right up to current scientific understanding of the brain function and neural plasticity using advanced imaging techniques.
The AQA course followed includes a full range of topics, mirroring first year undergraduate study, including the causes and treatments of mental illness, explanations of memory and forgetting including the fallibility of eyewitness testimony. Why we conform and what makes us capable of resisting social pressure are two particularly popular topics. Whilst this is an A level of academic rigour, its applicability to real life makes every aspect of the course relevant, accessible and useful.
For those who want to understand how humans work, develop their ability to think independently and become adept at analysing any type of data, Psychology is the right choice. Exciting, challenging and fundamentally important, this is a subject worth studying.
SCHEME OF ASSESSMENT
PAPER 1:
'Introductory topics in Psychology' covers four of the most intriguing areas of the subject, social influence, memory and psychopathology.
PAPER 2:
'Psychology in context' demonstrates how psychologists hold different views as to how to study behaviour in the 'Approaches' section, focuses on the most prominent paradigm in modern psychology – biopsychology – and also introduces students to the range of research methods techniques psychologists make use of.
PAPER 3:
'Issues and options' is partly synoptic and covers the issues psychologists have to consider when completing research. These include cultural bias and ethics. Students also study three elective units, Forensic Psychology, Gender Development and Schizophrenia.
AQA A level Psychology
(Course code: 7182)
PAPER 1: WRITTEN EXAM
2 hours
• Closed book
• 96 marks
• 33% of A level
PAPER 2: WRITTEN EXAM
2 hours
• Closed book
• 96 marks
• 33% of A level
PAPER 3: WRITTEN EXAM
2 hours
• Closed book
• 96 marks
• 33% of A level