Medical Centre
On-site Registered General Nurse
The Medical Centre is a large space in a quiet part of the school with an attached three-bed sick bay and toilet. It is staffed by a Registered General Nurse from 8am to 4.30pm Monday to Friday. She is also available to return to school if the need arises for Boarders outside these hours. A Bank Staff of Nurses are available to cover when needed.
The Medical Centre is a calm, restful, supportive refuge for those times of stress or illness. Nurse is available to discuss any aspect of a pupil's health with parents and is a friendly, welcoming face.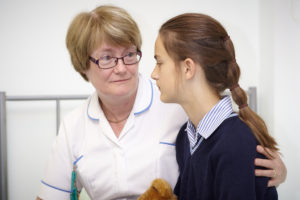 First Aid Qualified Staff
Our Nurse is very passionate about First Aid and is a qualified First Aid instructor. Most staff across all departments are First Aid trained. Boarding pupils are offered a one day course.
She also trains Staff to treat anaphylaxis/severe allergy and asthma, regularly updating the training, ensuring that staff taking a pupil on a trip has a refresher beforehand.
In The CLassroom
From September 2015 CPR is being taught to all pupils in the Senior School as a Life Skill using the British Heart Foundation Call Push Rescue programme.
Nurse visits the classrooms talking to younger children about hand washing and medicines, participates in Year 4's science topics and speaks to Year 6 about puberty myths and worries.
She is introduced to the Nursery children at the beginning of the school year so they are familiar with her.