The chances are you might have heard about the Festival of Quilts this year as it's had heavy coverage on the Chris Evans Radio 2 Breakfast Show.
If you are a listener you might now know that Festival of Quilts is the biggest patchwork and quilting exhibition in Europe attracting entries from many European countries. The theme this year was 'Free'.
Burgess Hill Girls is a massive fan of Festival of Quilts and we are regular entrants into the schools competition. Indeed we won it last year with a Quilted Deckchair inspired by the song 'Sittin' on the Dock of the Bay.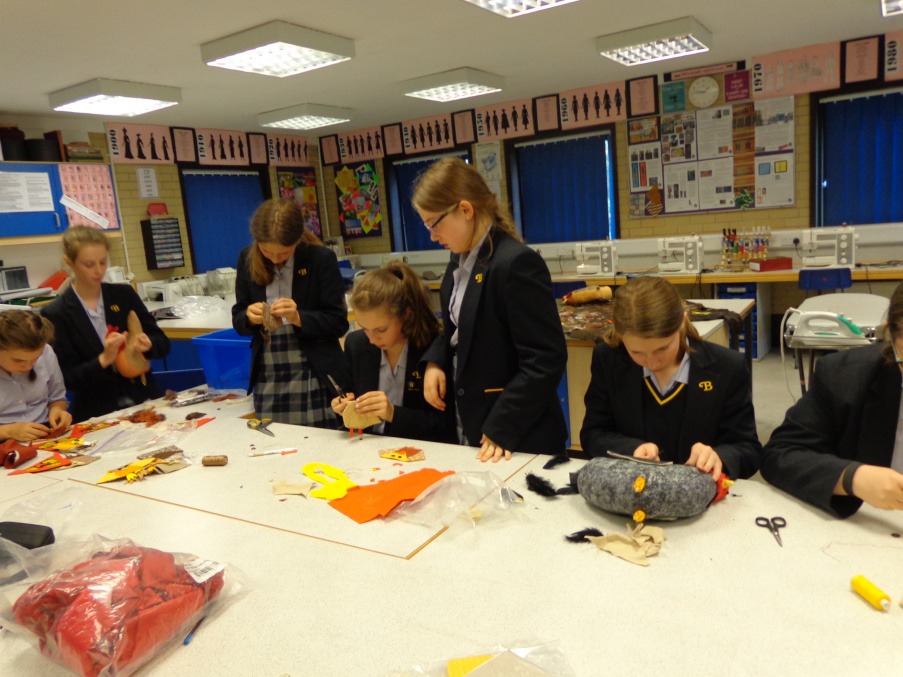 This year, girls have been attending a 30 minute lunchtime club each week to create almost life sized 'free range chickens'. The club has proved to be extremely popular with girls in year 8, a few girls in year 9 and 10 have also attended. The finished piece features 7 chickens on a handmade felt base with a quilted banner which the girls printed and then embroidered their names on. Here's the piece below – news just in – here's the winning piece – we won again this year!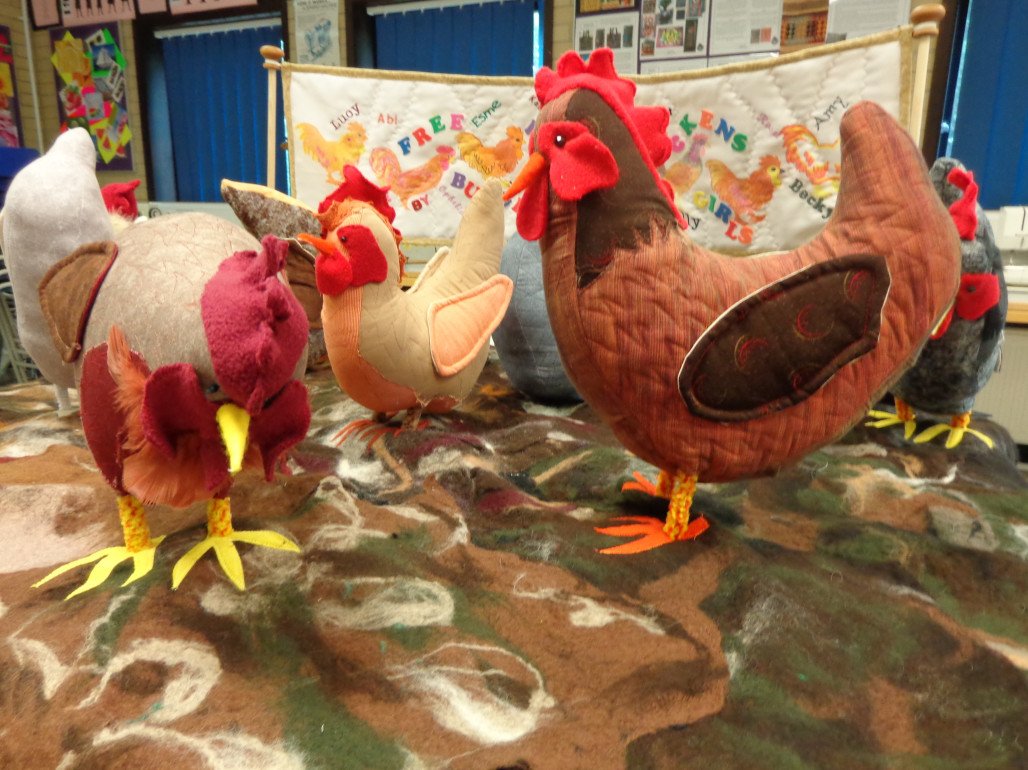 Three girls from year 10 also entered the individual 'Young Embroiderer/Quilter 'category, as part of the Duke of Edinburgh's Award scheme.
Francesca A – 'Free as a bird'
This is a two piece outfit comprising of a pencil skirt with a black lace tree, bird and butterflies which are restricted by a 3D bird cage. As the birds and butterflies fly free from the cage gaining their freedom they also gain vivid colours. The top therefore is much more colourful and vibrant. Francesca printed and embroidered the fabric for the birds and used coloured butterfly buttons.
Jasmine D – 'The burning of the Books'
This is a 3D fabric sculpture featuring life sized books on a base. During the 1930's German students burnt books which did not conform to Nazi ideals, thus restricting freedom of expression. The books have authors names embroidered to the spines whose books were burnt, and there are flames creeping through the pile.
Mia A – A piece inspired by the Adventures of Alice in Wonderland.
Mia felt that the imaginative adventures experienced by Alice were a way of allowing your creativity to be free. The circular skirt, which she carefully made, features Alice falling through the rabbit hole into the wonderland.
We're delighted to say Jasmine won 2nd prize and Francesca was 3rd! Well done to all three girls!