Our mission at Burgess Hill Girls is to develop tomorrow's women. When pupils leave they become Bold Girls, with all the self-belief, determination, and life skills they need to follow and achieve their dreams, whatever they may be.
In our Bold Girl news we often highlight the career success of our alumnae, be it becoming a GB triathlete, a published author or receiving an MBE. But just as important, or to quote many Bold Girls, more important, is success in their roles as mothers. So in this news we thought we'd share school memories and family news from two incredible Bold Mums; Jenny Driver née Spindler and Juliet Bromley née Wilson.
Jenny Driver née Spindler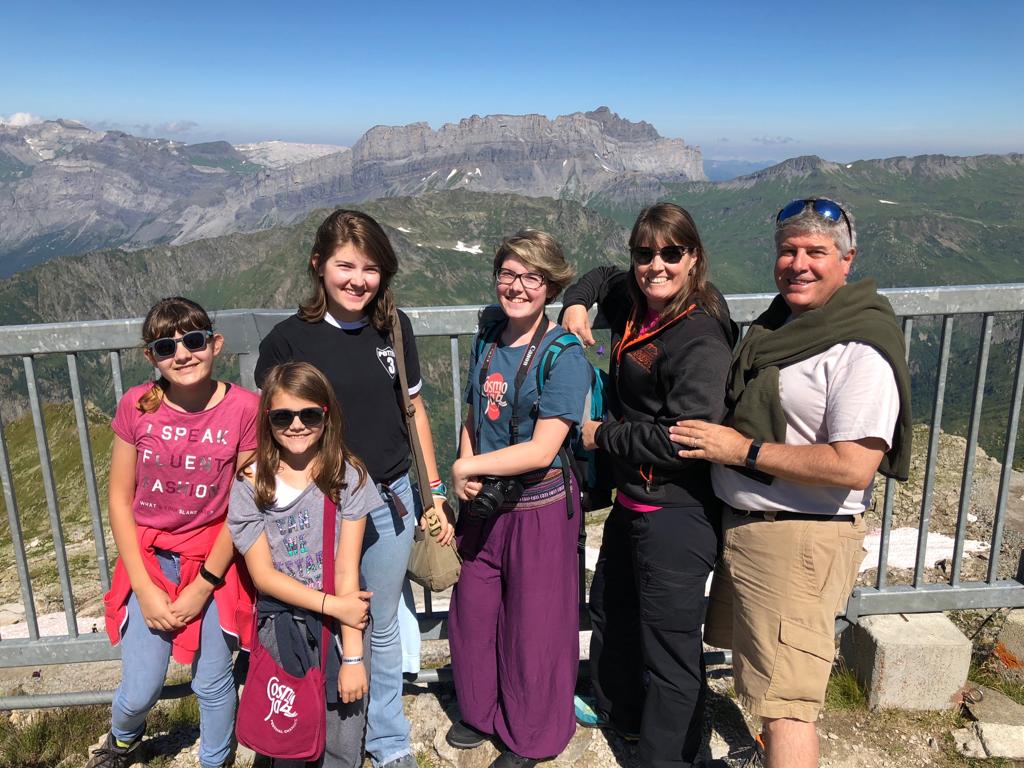 It is interesting to note that all four of my girls are now in significant phases of their lives that directly reflect my time at Burgess Hill Girls. My youngest is getting ready for secondary school and is the age I was when I joined Burgess Hill Girls at 11. My third daughter is the age I was when making my GCSE option decisions, my second daughter would be sitting her GCSEs this summer if we were not following an IB system, and my eldest is in her final year preparing for her IB diploma, school graduation, and University. I can clearly visualise my Burgess Hill Girls life at these major points.
Boarding has very much shaped my life making me independent and keen to see the world with my family. Home is where the family is and not necessarily the house or location. It has always given me a sense of a special bond between friends over the years. My own girls have changed schools and countries many times (Dubai, London, Malaysia, Florida, Pennsylvania, Paris and Hong Kong) and we have always maintained some of the closest friendships across the miles.
I do wonder how I would feel if I was sending my girls overseas to school like my parents did. I know they would be fine just like me but I also know that I like to keep them close. My eldest will hopefully be heading to University later in the year so we will embrace that change as we do all other relocations.
Boarding was made more significant by the adults who helped shape our lives. I have very fond memories of Mr and Mrs Parry (the "grandparents" of the boarding house. Mrs Parry would visit us on Tuesdays to give Miss Moiser a break. When we got too loud or difficult, we were told to "simmer down, girls!". There was always chatter and music around the boarding houses and plenty of company when you wanted some. Perhaps that's why I enjoy the large family I have now. The Blamires and the Herons were fabulous role models and I will always fondly remember Mrs Heron for having to be the person to pass on some devastating news to me in my final year, and the rest of the staff for their support and care.
I truly enjoyed my 7 years boarding at Burgess Hill Girls. The first term was difficult as it was such a big adjustment but once I returned from the Christmas break, I never looked back, finishing as Head Of Boarders in 1990.
Juliet Bromley née Wilson
I enjoyed my time at Burgess Hill Girls and will always be grateful to the school for introducing me to music which has had such a positive effect on family life. First, I must say that my first child was a boy…. the second was also a boy and the third was…. another boy! Having been to a girls' school and having one sister and no brothers, I wasn't prepared for all these boys! However, it is brilliant having sons and one way we connect really well is through music.
At Burgess Hill Girls, we had an amazing music teacher – Mr Max Morris. He encouraged us all to learn instruments, join the choir and make music an important part of the day. While I was there, a wonderful new music school was built and this led to time spent in practice rooms with friends at break and at music clubs. Mr Morris also organised trips to concert halls and, memorably, Glyndebourne, where I heard my first opera – Rossini's La Cenerentola. It was incredible! I had never heard anything like it. I love opera to this day and spent a few years in London working for a television company that filmed opera at Covent Garden. I am sure that trip to Glyndebourne helped me to get the job as I talked about it at my interview. Whenever I hear Rossini on the radio as I'm driving along the country lanes in Dorset, I think of Burgess Hill School for Girls and the fun we had that evening and how it opened my mind to opera. Mr Morris also arranged for us to sing choral works with the boys from Hurst College (for example, Handel's Messiah) and to perform Gilbert and Sullivan. Whenever there was a chance to be in a performance with the boys' school, I'm sure the numbers in the choir suddenly went up!
I became a piano teacher when I had my first child, having started to learn the piano at Burgess Hill Girls when I was 15 and it has fitted in very well with being a mother. My husband built a studio in the garden for my pianos and it's a joy to teach from home (and sit outside in the sun with the cat between lessons!). I have taught lots of my children's friends and found it very useful not to work in the school holidays. Our own children all love music and play instruments – although they have steadfastly refused to learn the piano from their mother (probably for the best!). Our eldest son, Hamish, now 20 and at university, plays boogie woogie piano and was in a band for years at school. He and his friends performed locally and went on tour to the Scilly Isles when they were about 13. Rufus, our middle son, 16, plays the saxophone. He's back from school this weekend and last night we spent a couple of hours playing the saxophone and piano together. Monty, our youngest at 11, learnt the drums for a while and is now having DJ lessons. His maths teacher told me at the last parents evening that if he ever stopped singing and beatboxing during the maths lesson, he might actually learn something!
So the very strong music department at Burgess Hill Girls in the late 70s and early 80s and the enthusiasm and commitment of Mr Morris has given me a lovely legacy of music, which I shared with our children…and has given them, in turn, a love of music.